Street Legal Mini Choppers – Steps To Make You Custom Built Mini Chopper Legal

Exploring and visiting new places is a hobby for many of us. Some would opt to do this by hitching rides, taking public transport or driving their own cars. The adventurous ones prefer to take their mini choppers for a ride.


This is a different adventure of its own. Street legal mini choppers are the best option to have this kind of experience. You can actually find these kinds of mini choppers everywhere these days. These are used by some even for highway commute and daily work. If you check the latest craze in the biking world, you can see the mini choppers topping the list.

Street legal mini choppers are usually built with an engine capacity of 50cc to 110cc. These have a single cylinder and a 4S engine. You have both electric version and engine versions of these bikes. The most popular models of this kind are the ones inspired from old Honda 50cc mini chopper and a 900cc Step through engine and these are mostly Chinese models. You can easily distinguish these from others as these have a horizontally finned cylinder arrangement. These Street legal mini choppers are available at an affordable rate and almost indestructible, if bought from reputable manufacturers.

Most people who own mini choppers own them to exude power and bully others. Only few intend to drive them on the roads like any other vehicle. It is unfortunate that in many states riding a mini chopper is illegal.

There are many requirements that need to be followed to make a mini chopper street legal. Your mini chopper needs to have certain parts added to it to make it legal. Go meet your officer at the local DMV and ask them a list of requirements and demands made by the state for Street legal mini choppers.

One of the most common and first requirement is that your mini chopper has lights. You should have a headlight in the front and brake lights in the back. This comes readymade with the bike. But you will need to install turning signal lights on your own.

The next requirement is to have rear view mirrors on either side of the handle bar. This is due to the fact that you mini bike is very low to ground and compared to regular bikes very small. So you won't be able to view any approaching vehicle. Hence rear view mirrors are very much needed.

Horn is the next requirement. These are not that costly and will help you when somebody is trying to cut you off in heavy traffic. Have your horn hardwired and fix it in the front of your vehicle. And it should be loud and easily identifiable. Once you have these requirements fulfilled, ask the local DMV to inspect your vehicle.

Once approved, you can ride the Street legal mini chopper with pride.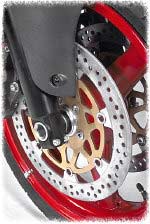 Custom chopper parts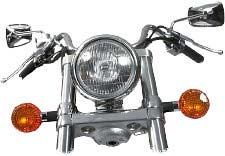 Custom choppers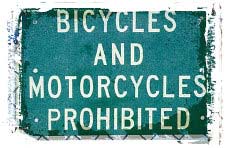 Street legal choppers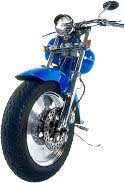 Mini chopper kits